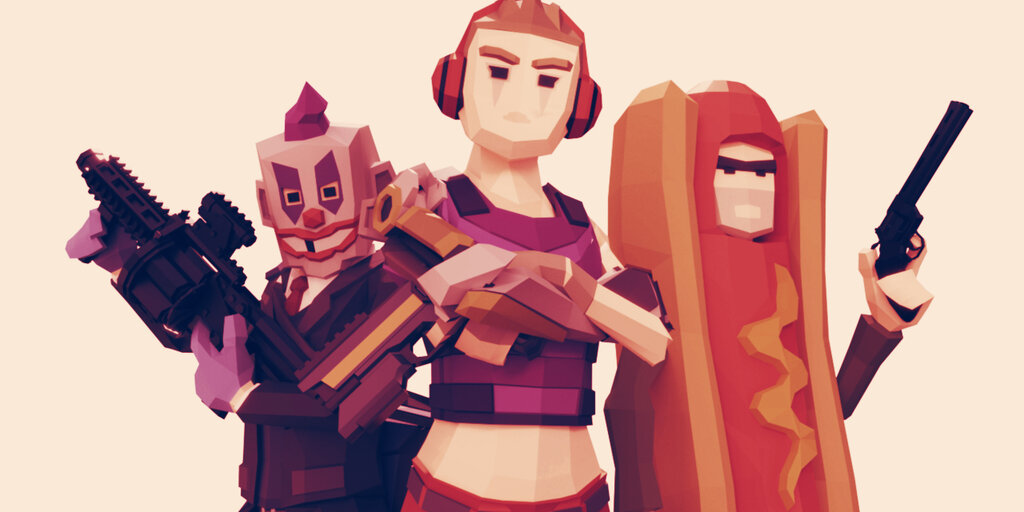 CryptoKitties took the crypto world by storm in late 2017, even famously crashing the Ethereum network. Now these kinds of non-fungible tokens and crypto collectibles are coming to Bitcoin.

The creators of the Bitcoin Battle Royal game, Lightnite, and Bitcoin infrastructure giant Blockstream, announced Tuesday that they have added the game's tokens to the Liquid Network. "The game is currently in development, but there is a public pre-alpha version available," the founder of Satoshi Games and Lightnite developer, Carlos Roldan, told Decrypt. 
We're excited to share @lightnitegame has released the first #LiquidNetwork-powered NFTs for their in-game assets like clothing, weapons, equipment, & more! We think this is awesome so we're giving away a bunch of assets today @ #ConsensusDistributed! https://t.co/5KBQghftrH pic.twitter.com/jpHqzDgo2y

— Blockstream (@Blockstream) May 12, 2020
Previously, Lightnite players had to trust developers that their items were unique or rare. The items were also trapped in the game. Now, by adding the items to the Liquid Network, players can verify and hold these assets themselves on Blockstream's Block Explorer and Green Wallet.
Oh come on they have a weed 1911!? *throws money at the screen* https://t.co/d5qynOv5Q2 pic.twitter.com/dATgXLP6L4

— grubles (@notgrubles) May 12, 2020
This is more of a game changer than I can imagine and I can imagine quite a bit. pic.twitter.com/38M9BqTPsL

— Nunya Bidness Giga and (@bennd77) May 12, 2020
According to the developers, items range in rarity from Legendary (1 unit in existence), to rare (100 units), Premium (500 units), and normal (unlimited supply). The class of items include character skins, wearables, hoverboards, and guns. 
NFTs done right and in a real lightning powered game https://t.co/SJsMw78L3U

— Adam Back (@adam3us) May 12, 2020
Much like the gameplay within the Epic Games sensation Fortnite, Lightnite players can wager their items—as well their Bitcoin—in-game, as they blast each other to smithereens. (Don't worry, there's also a non-Bitcoin enabled mode, so you can test and play the game without risking any coins.)
Every time you enter a match with your Legendary skin and Bitcoin, you risk losing it to other players. And if no one picks up lost loot, the game deletes the items forever, decreasing the supply of in-game items, similar to how tokens are lost forever when they are burned. 
By adding this loot to the Liquid Network, the developers want to enable a secondary economy outside the game where users can buy, sell, and trade their items with Bitcoin, but also verify the authenticity of their conquered items. The developers also want these in-game assets to be interoperable with other Bitcoin games in development.
DOPE!!!!! pic.twitter.com/jZn6YoQjsN

— Frλ͎ncis (bullbitcoin.com) (@francispouliot_) May 12, 2020
"Bitcoin payouts for gamers is a new feature for gamers that is still to be adopted," Roldan said. Despite the learning curve that exists for gamers interested in using networks like Lightning and Liquid, Roldan said he thinks players will "easily overcome it due to the attractiveness of the use case."
This addition to the Liquid network comes as Bitcoin-enabled online games have caught steam in the past few months. Bitcoin startup Zebedee launched a software development kit and dashboard in February for video game developers to integrate Lightning payments into their games. Then in March, Zebedee started hosting monthly online Magic Internet Gathering tournaments, featuring Bitcoin-enabled online games like Lightnite. 
And, who knows, if this catches on, maybe the next decade of Fortnite millionaires will be paid in Bitcoin.
Source: Decrypt Bitcoin battle royal Lightnite adds in-game assets to Liquid Network