Binance has launched BTC options on its futures trading platform. However, the exchange has been criticized for misleading users. Its BTC options resemble some aspects of fraudulent binary trading practices.
Many exchanges have rolled out Bitcoin options in the past few months. As BeInCrypto has previously reported, CME launched its BTC options trading in February. Meanwhile, Bakkt launched its own BTC options in mid-December of last year. 
With plenty of competitors already offering such marketplaces, Binance will now be entering the mix with its own BTC options market. However, this financial product is worth scrutinizing.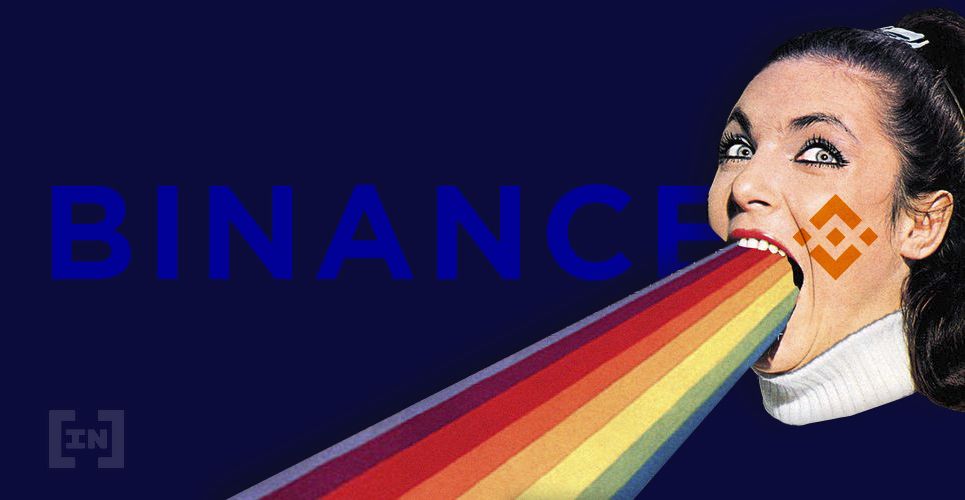 Binance Offers BTC Options for the First Time
With Binance Futures now leading the market, the exchange has now unveiled plans to expand to include options trading. It made the announcement earlier this week.
As of April 13, traders can purchase BTC call and put options which expire between 10 minutes and one day at market prices. The purported goal is to provide a low spread and premium with Binance's high-liquidity marketplace. Options trading on Binance is limited to Bitcoin now. Yet, as Binance has clarified, it does plan to introduce more digital assets than BTC options as trading picks up steam.
The rollout of Binance Options is an extension of its futures market— and it's been controversial, to say the least.
Binance Dominates BTC Futures (For Better or Worse)
Binance hopes to dominate the BTC options market much like it has with BTC futures. As BeInCrypto has reported, the market sell-off in March reshuffled many of the market leaders for BTC futures trading. Although BitMEX has historically been the most popular, Binance and Huobi now dominate futures markets. Binance posted an all-time high of $9 billion of volume in 24H last week, as per the exchange's announcement. The exchange naturally expects this same enthusiasm to spill over to its BTC options trading.
Bitcoin futures are also rebounding after a lull in March. Open interest increased in April after a drastic drop last month, as BeInCrypto has reported. Although aggregated open interest is still far below what was even seen in early January 2020, it seems that the market is slowly rebounding.
So, Binance Futures can expect to further grow, but it's not been without its critics. As BeInCrypto has reported, there have been accusations of major insider trading each time before Binance has added new cryptocurrencies to its futures market. In January, the exchange was under fire for alleged insider trading when XRP rose drastically before the actual announcement. A similar situation was recorded when Litecoin (LTC) was added. 
Binance has also been criticized for allowing an insane 125x leverage for its BTC/USDT futures pair. That amount of risk is akin to gambling, not trading. However, Binance CEO Changpeng Zhao (CZ) responded to the criticisms by simply saying "use high leverage with extreme caution."
Use high leverage with extreme caution. Dont recommend it for new traders. https://t.co/vstV0Lusf2

— CZ Binance (@cz_binance) October 18, 2019
Who Wins with Binance Options Trading?
Now, let's talk about the elephant in the room: What is the issue with Binance Options trading?
With Binance now leading margin trading in the cryptocurrency world, it is deserving of extra scrutiny. The recent rollout of BTC options trading on the exchange has raised serious concerns because it shares some similarities with binary options. 
In case you don't know, binary options have been harshly criticized by many in the financial industry. Often called "all-or-nothing options," they have been investigated by the U.S. FBI,  and Israeli police have tied them to criminal enterprises. The European Securities and Markets Authority (ESMA) has banned the practice entirely. A simple Google search will confirm all of this.
The practice has been the subject of increased scrutiny for the cryptocurrency space as well. In November 2019, BeInCrypto reported that a New York court charged the founders of ATM Coin with binary options fraud. They were forced to pay $4.25M to settle the case. In June 2019, the Austrian Financial Market Authority also issued a stern warning about CryptoTrader for fraudulent binary options trading. The list goes on. In fact, fraudulent options trading like this was one of the reasons Facebook, Google and others banned all cryptocurrency ads for a long time.
The difference between Binance's BTC options and binary options is a very fine line. For one, Binance options have extremely short-term durations. In a blogpost, the exchange asserted,
"Binance Options do not adopt a fixed pay-off structure that is embedded in Binary options."
Therefore, because the payoff is variable, Binance claims it is in the clear. However, it's obvious that the exchange expected this accusation to be made or else they wouldn't have taken the time to write about it.
Binary options have been responsible for the extremely negative press for forex markets and other financial sectors. If Binance is bringing such shady tactics to the cryptocurrency space, however, then it should realize that it is putting the entire industry at serious risk. The reputation of the industry is at stake.
So, we should ask ourselves, who ultimately wins with Binance Options?
Playing with Fire
Any new financial products by Binance should be expected to reflect on the entire industry. This is because they are the largest exchange by far. However, Binance seems to be under the impression that it is 'too big to fail.' Basic questions like where the exchange is based and under what legal jurisdiction it is under still escape the public.
Repeatedly, Binance has claimed to protect its users whenever it is convenient. For example, Binance delisted all leveraged tokens last month to 'protect users.' However, upon deeper inspection, these leveraged tokens are a financial product from FTX exchange. Being some of the most popular crypto-assets on the exchange, Binance promptly delisted them because they were not profiting. Other exchanges have listed FTX's leveraged tokens since then, trying to capitalize on Binance's angry users.
If the leveraged tokens were delisted to protect users, what should we make of the 125x leverage on Binance futures? Or the fact that Binance was offering margin trading for illiquid altcoins like MATIC, which saw 70% losses in an hour after the music stopped? Or the dubious trading activity which saw LINK drop close to $0? Contrary to Binance's claims, protecting users is not the motivation here.
Let's Hold Binance Responsible
If Binance is the face of the cryptocurrency industry, it must be held to account.
Releasing financial products that are skewed to Binance's benefit do not push the industry forward but instead is an indication of its stagnation. Now that adoption has been put on the sideline, the cryptocurrency industry has instead mirrored the financial world that so many of us criticize.
When assessing options trading, one should ask: Does the broker (i.e. exchange) excessively profit? Does it involve a cash-or-nothing binary option? In the coming weeks, financial analysts will undoubtably look at Binance options trading and come to their own conclusions.
However, just because it is Binance does not mean it is automatically 'legitimate.' The cryptocurrency industry is still so small, and its reputation is on a tightrope. Therefore, analysts should be cautious and voice their criticisms; it helps improve the entire industry.
As the saying goes, "if it looks like a dog, walks like a dog and barks like a dog, then it's a dog." So if it looks like binary options, don't be fooled even though it's Binance.
BeInCrypto reached out to Binance for comment but did not receive one in time for publication.
The post Binance Rolls Out Bitcoin Options but Not Without Its Critics [Opinion] appeared first on BeInCrypto.
Source: Be In Crypto