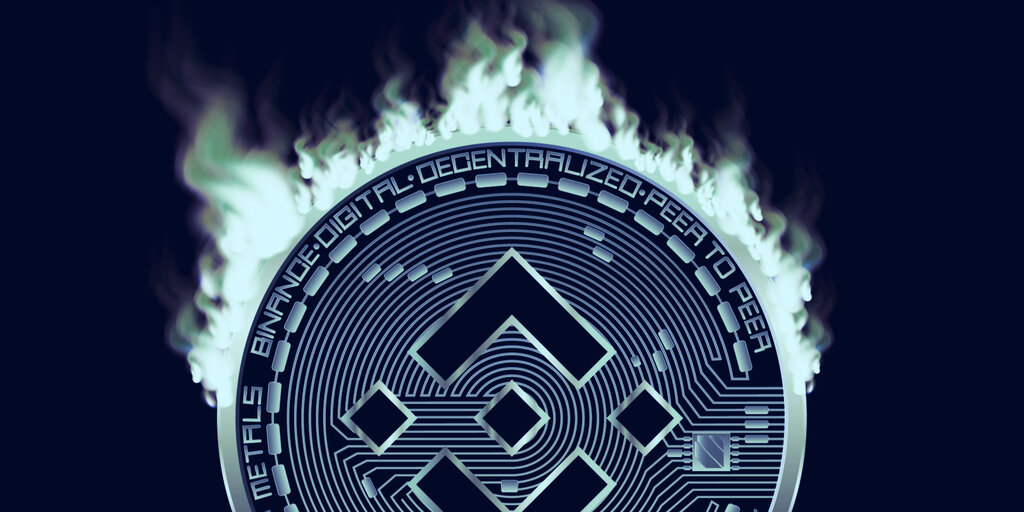 Cryptocurrency exchange Binance on Friday announced its biggest ever coin burn—removing $60.5 million worth of BNB from circulation. 
The coin burn destroyed 3,477,388 BNB—an Ethereum-based ERC-20 token used as a medium of exchange on Binance. The 12th quarterly burn is part of the exchange's strategy to cut its supply in half to 100 million coins. 
Binance's quarterly coin burns aim to reduce supply and in turn increase the price of the token. In its whitepaper, Binance says for burns it uses 20% of its profits to buy Binance Coin on the open market and burn them up to a maximum of 50% of its supply. 
#Binance's 12th BNB burn is the biggest ever recorded, both in terms of #BNB and $USD value.

3,477,388 BNB gone forever.
$60.5M USD value

"I am more certain about the future of crypto than ever." – Read @cz_binance's recap of the last 3 years, and plans for the future.

— Binance (@binance) July 18, 2020
The burn didn't boost the price of BNB. As it stands, the token's value is down 1.51% in the past 24 hours, according to CoinMarketCap data. The price of BNB is currently worth $17.05. 
Binance's s latest burn happened during the month of the exchange's third anniversary. CEO Changpeng Zhao said in his announcement that he "can't deny a proud feeling, not so much for our achievements, but for how hard our team has worked in the last three years to overcome many challenges."
He listed the exchange's latest achievements in the post, highlighting that Binance Futures maintained its status as a top crypto futures exchange and that fiat-to-crypto channels had been enhanced. 
The latest burn exceeded April's—when a total of $52.5 million worth of BNB was wiped. 
BNB—formerly known as Binance Coin—is the tenth-largest cryptocurrency by market cap, standing at over $2.6 billion. In the past 24 hours, over $143 million BNB was traded. 
Binance's cryptocurrency gives users get discounts when trading on the exchange and can be traded on the open market.
The views and opinions expressed by the author are for informational purposes only and do not constitute financial, investment, or other advice.
Source: decrypt