Binance Coin (BNB) has broken out from an important resistance level and validated it as support afterward.
Some technical indicators, however, suggest that a bearish reversal could transpire soon.
BNB Makes a Double-Top
The BNB price has been gradually increasing since March 13. The rally stalled near the end of July when the price reached the $21.50 area and was rejected.
On Aug 3, BNB was finally successful in breaking out above the $21.50 area and validated it as support afterward.  If the price continues increasing, the next resistance area would be found at $25.50.
However, BNB has created what resembles a double-top, which is normally considered a bearish reversal pattern. The pattern is combined with a considerable bearish divergence in both the RSI and the MACD, even though the latter has begun to move upwards.
Therefore, it is possible that the price will revisit the $21.50 area to test support once more.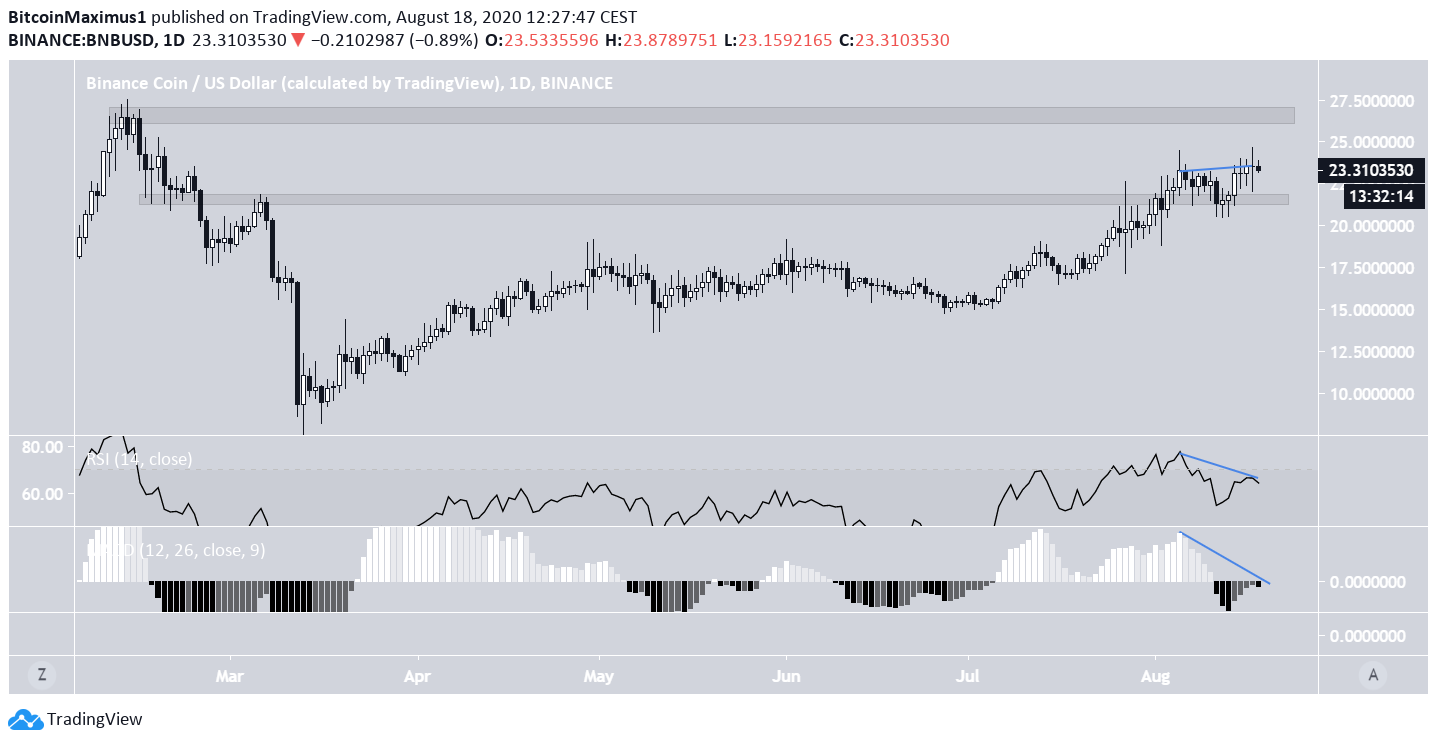 When looking at the weekly chart, we can see that there is a considerable hidden bearish divergence in the RSI. If a decrease occurs as a result, BNB could fall all the way to $17.70.
Short-Term Weakness
The short-term chart reveals some additional weaknesses.
First, we can see a deviation above the $23.50 area which could not be sustained, since BNB has fallen back below the resistance area.
Second, there is a pronounced bearish divergence in both the RSI and the MACD.
This indicates that the price is likely to move downward towards $22.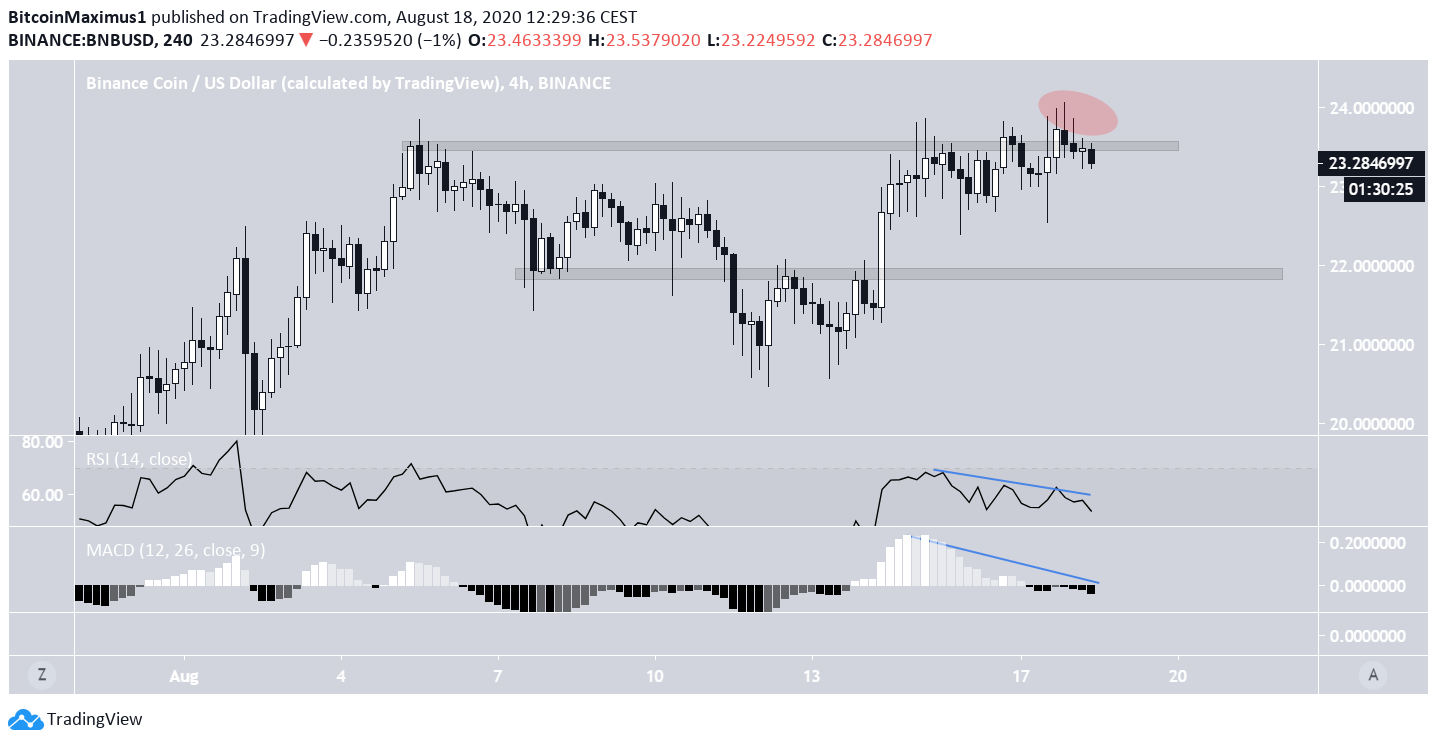 Wave Count
As for the wave count, it is possible that the price began a five-wave formation on June 29, which ended with a high of $23.83 on Aug 5.
If the count is correct, the price is now near the top of a B wave, after which a decrease is expected to transpire. The multiple divergences support this possibility.
The low of the C wave could be reached near $19.30, the 0.5 Fib level of the entire upward move, and the previously mentioned support area.
Since the 1.382 Fib time level of the upward move lands on Aug 20, the C wave low should be reached after this date.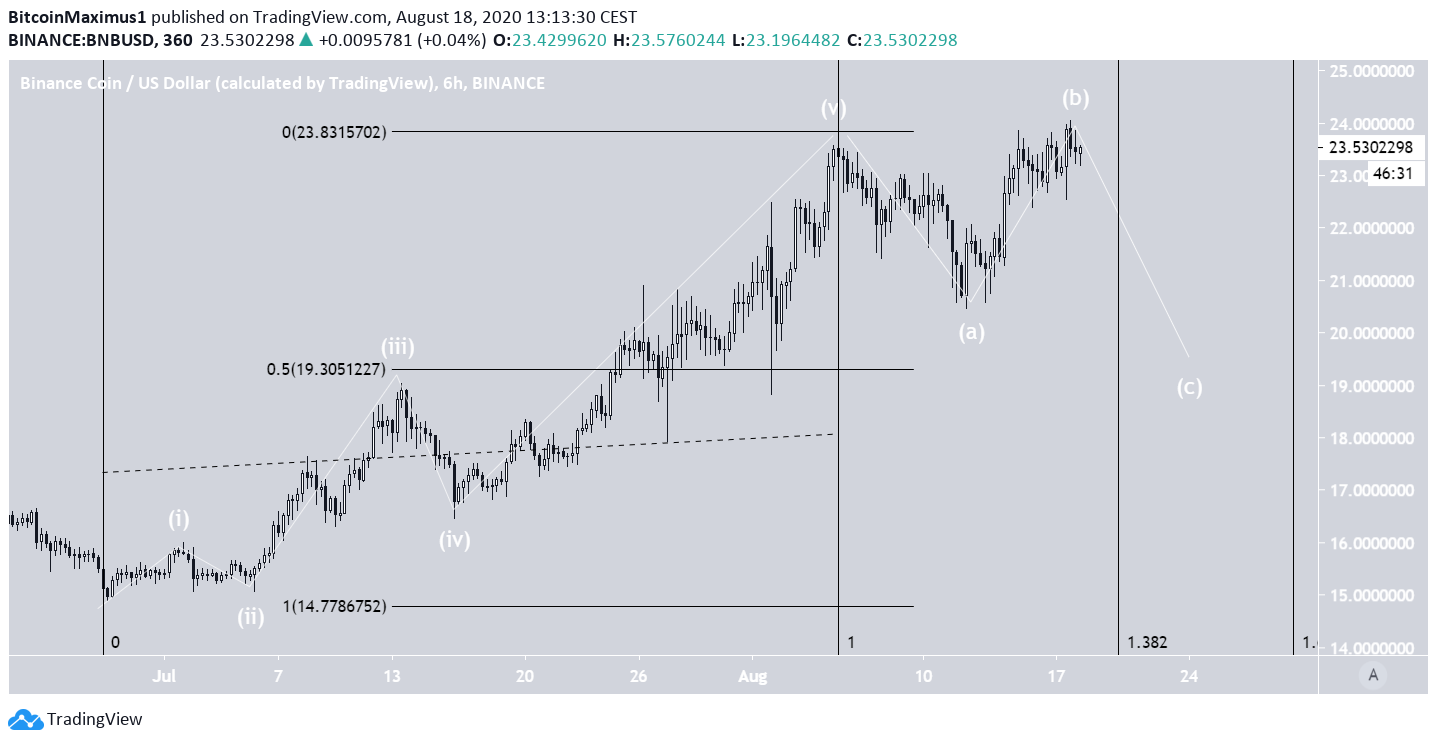 The post Binance Coin (BNB) Struggles to Sustain Higher Prices After Breakout appeared first on BeInCrypto.
Source: Be In Crypto