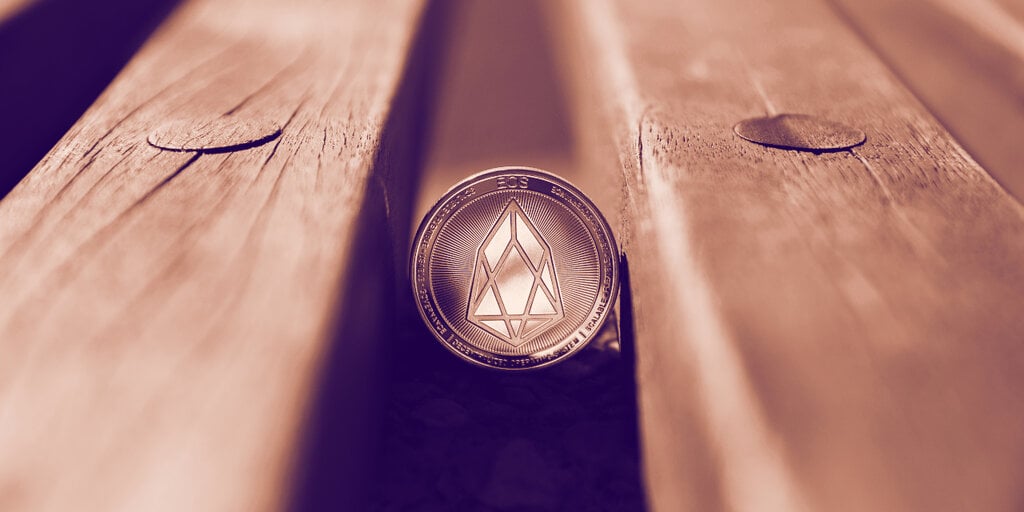 The world's largest ICO project, EOS, may be in serious jeopardy.
Developers working on the EOS platform fell more than 85% compared to a year ago, according to a new research report from Outlier Ventures. As a result, code updates tracked on Github were down a whopping 94% for the beleaguered protocol over the same time period. What's more, as Decrypt reported in April, EOS dapp activity is down 70% over the last year.
With developers and users departing in droves, how much longer can EOS remain a top 10 project?
EOS purportedly raised more than $4 billion over the course of a year-long initial coin offering (ICO) in 2018. Since then, developers have added about 325 dapps and 515 smart contracts to the platform according to State of the Dapps. By comparison, Ethereum developers have released almost 2,900 dapps and more than 4,500 smart contracts. 
The Outlier Ventures report notes that Ethereum dominates the decentralized computing space with 80% of all smart contracts and dapps calling the protocol home. EOS is a distant second with only 9%.
The research also sees trouble lurking from TRON, which saw active developers decline more than 50% compared to a year ago, and 96% fewer code updates. While Justin Sun's pet project has a market cap less than half the size of EOS, TRON has seen considerably more attention via acquisitions and high profile meetings.
The report also highlighted growth among less flashy contenders in the crypto arena. Polkadot, who released their mainnet in May, saw monthly active developers jump more than 40% versus the previous year. Cosmos, home to the recently released Band Protocol 2.0, also saw active developers grow 15% over last year. Theta and Cardano are also seeing significant development, with code updates increasing 930% and 580%, respectively.
So where does that leave EOS? According to Outlier Ventures, the decline in the platform's development is likely due to "falling interest following the 2019 launch of its main network and core developers moving away from the protocol."
Nevertheless, the protocol still maintains the second largest user base after Ethereum at nearly 15,000 average daily active users. But with so many developers leaving the ecosystem behind, it's unclear how EOS will be able to reverse falling user numbers or offer innovative new decentralized applications to compete with more active protocols.
The views and opinions expressed by the author are for informational purposes only and do not constitute financial, investment, or other advice.
Source: decrypt