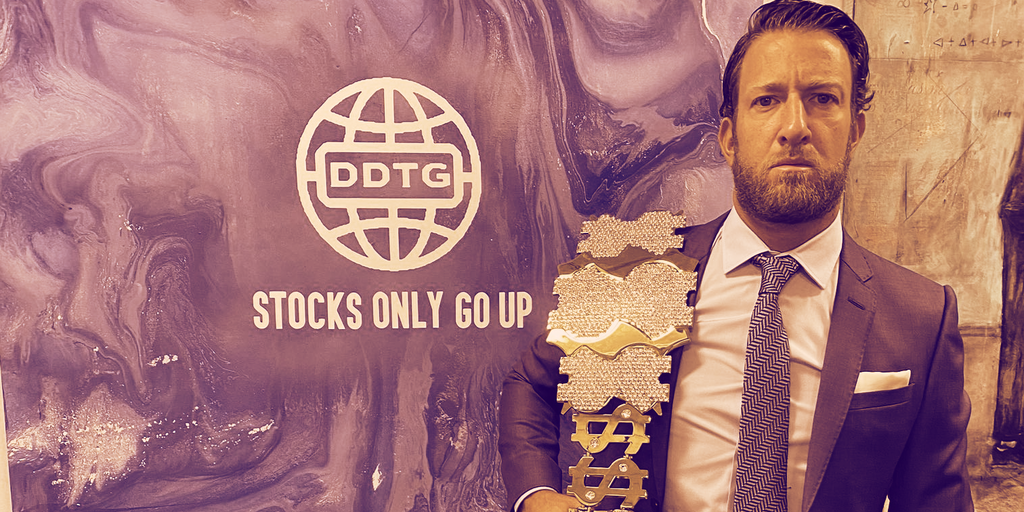 Just weeks after Dave Portnoy ended his whirlwind crypto dalliance by dumping more than $1 million worth of Bitcoin, the outspoken Barstool Sports president says he will be back in the crypto market. He just needs to figure it out first.
In a segment during his daily Davey Day Trader stock market stream this morning, Portnoy spoke about his nearly 20 years of working in Internet businesses and the people he interacted with over that time.
"Crypto people [are] just about the most enjoyable group of people I've ever encountered," he said. "They're fucking crazy. They're crazy on social media, they're crazy on Twitter, they have the same fucking personality I do; they're gamblers at heart, they slant, they can laugh at themselves, and they just want to make money."
"I will be in crypto," Portnoy continued. "My heart is crypto, but I just gotta figure it out. Right now, I'm dealing with the stock market."
He also touched on some of his other previous crypto investments, affirming his love for Chainlink and its devoted Link Marines while dismissing fans of Orchid (which he still pronounces as "orchard").
"I love the Link Marines," said Portnoy. "I don't like the Orchid people. The Orchid people are a joke. Get the Orchid people out of here. But other than that, I like it all."
"I want that sent to the head of crypto. I love crypto," he added, instructing his producer to clip that part of the show. "When I think crypto, the juices get flowing, I can feel it in my plums… I realized I don't know what the fuck I'm doing."
There is no official head of crypto, of course, but some people have taken the initiative to try and direct Portnoy's next moves. FTX exchange founder and CEO Sam Bankman-Fried chimed in with a thread of his own, pointing out that Portnoy bought LINK when it was already up 600% and the Link Marines were "exhausted" by that point.
1) Alright @stoolpresidente. Head of Crypto reporting. You wanna know how to think about crypto?https://t.co/QEpaZnsU9a

— SBF (@SBF_Alameda) September 9, 2020
Instead, he suggested that Portnoy look into DeFi yield farming with "tokens named after food," like SUSHI and YAM, and then added, "But really here's the secret: choose any token that's popular and doesn't have a very large circulating supply."
Will Portnoy's next crypto entry be longer-lived, or can we expect another chaotic couple of weeks of trash talk and gloating about pump-and-dumps? We shall see.
The views and opinions expressed by the author are for informational purposes only and do not constitute financial, investment, or other advice.
Source: decrypt