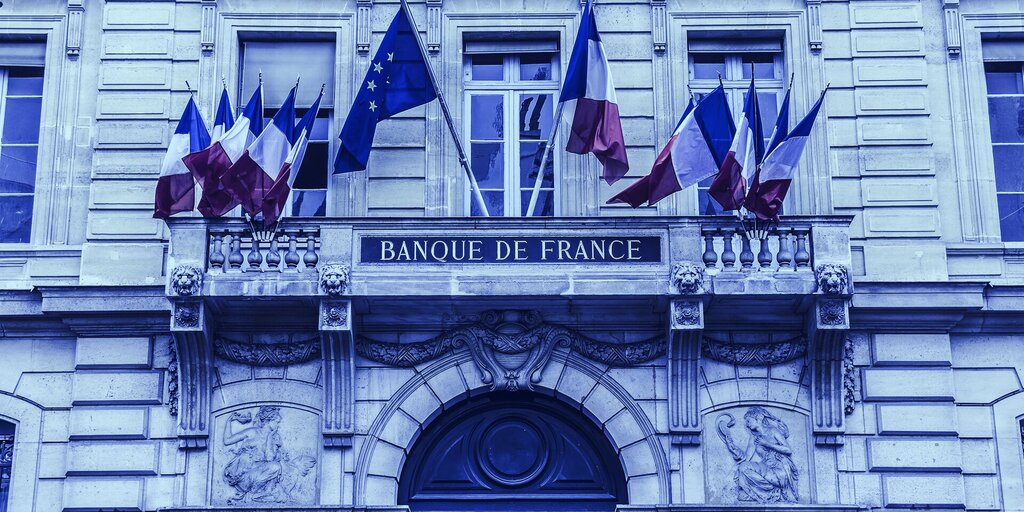 The Banque De France, France's central bank, has selected eight potential partners, including HSBC, Accenture, and Seba Bank, in its hunt to modernize interbank settlement via a central bank digital currency (CBDC).
As the institution heading the digital euro initiative, the Banque De France called on applicants in March to propose experimental CBDC frameworks to both refurbish interbank settlement and lay the foundations for a digital euro. Now, per a statement from the bank, the applicants have been chosen, and work is underway.
Who is taking part in the CBDC experiment?
The central bank's favored few include Accenture, HSBC, Seba Bank, and ProsperUS, as well as Euroclear, a Belgium-based financial services company; Iznes, a blockchain-powered record-keeping platform for funds; LiquidSharem, a blockchain-based post-trade settlement for SMEs; and French financial institution Societe Generale's Forge—a tech platform, designed to promote blockchain-based activity.
[Communiqué] À l'issue du dépouillement des dossiers reçus le 15 mai dernier en réponse à l'appel à candidature pour des expérimentations de #monnaie #digitale de banque centrale, découvrez la liste des 8⃣ candidatures retenues https://t.co/VTMfBI3JUI #MDBC #Blockchain pic.twitter.com/IyB8OfZsAJ

— Banque de France (@banquedefrance) July 20, 2020
Within today's announcement, the Banque De France laid out the specific criteria for the CBDC proposals, noting that they aim to "explore new methods of exchanging financial instruments," but specifically excluding crypto-assets such as Bitcoin.
The experiments will also test CBDC regulations to improve the execution of cross-border payments, and revisit methods of making central bank money available.
Though the specific CDBC-centric experiments are as yet undisclosed, in its original call for applicants, the bank specified that they would need to lean on utility and innovation. It also advised that it wasn't restricting solutions to blockchain alone—which goes some way to explain the bank's varied selection.
The road to a digital euro 
While the bank emphasizes that these proposals are purely experimental, it remarks that the findings will constitute a "direct contribution" to similar CBDC investigation in the eurozone, ultimately forming the basis for a digital euro.
While France seems to be leading the supranational charge toward a CBDC, several countries within the Eurozone continue to vie to pioneer a digital Euro. In Italy, the Italian Banking Association (ABI) has built a set of guidelines for the incipient CBDC. Meanwhile, The Dutch central bank has offered to be the testing ground for the digital Euro. 
Source: decrypt