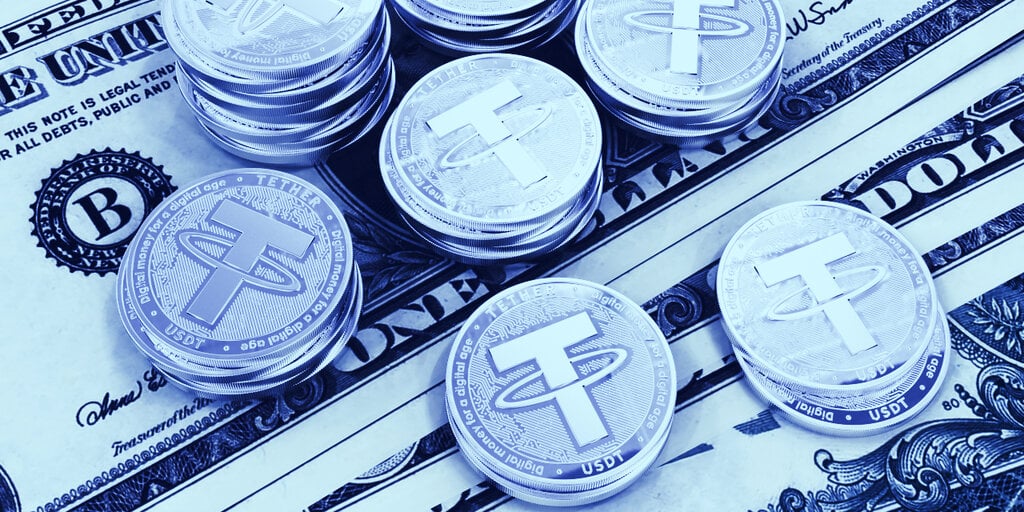 Stablecoin issuer Tether is preparing for yet another big transfer of its dollar-pegged USDT tokens.
Tether, the largest stablecoin provider in the crypto ecosystem, announced today that it will work with a third-party client, presumably a yet undisclosed cryptocurrency exchange, to move $1 billion worth of Tethers (USDT) from the Tron blockchain to the Ethereum blockchain. It's the second time Tether performs such an action in the last 30 days.
The loss of a second billion in Tether stablecoins for Tron comes as decentralized finance (DeFi) products on Ethereum recover from a recent downturn in locked value, earning back more than a billion dollars in less than a day between September 13 and September 14, according to data from DeFi Pulse.
DeFi protocols make heavy use of stablecoins such as Tether and Coinbase's USDC. Since they are pegged to the US dollar, they provide a safe harbor against volatility found in other digital assets, including Bitcoin and Ethereum. And being pegged to the dollar likewise allows loans and other financial instruments denominated in stablecoins to function and be paid like those in traditional bank-based finance, making it easier to onboard new users and track investments using traditional metrics.
Tron may be making waves with initial forays into a DeFi ecosystem of its own, but so far it hasn't been enough to convince exchanges to keep many Tron-based Tethers on hand.
Tomorrow Tether will coordinate with a 3rd party to perform two chain swaps (conversion from Tron to ERC20 protocol) for 1B USDt.
Tether total supply will not change during this process.
Read more here: https://t.co/abfgnELSvi

— Tether (@Tether_to) September 14, 2020
A chain swap moves dollar-pegged Tether tokens from one blockchain to another without actually changing the amount of Tethers in existence overall. Such swaps are likely the result of customers anticipating the need for stablecoin liquidity on one blockchain and receiving tokens in advance, then adjusting supply as demand requires. 
There are currently more than $4.7 billion Tethers on the Tron blockchain, according to Tronscan. Notably, this is more than the $4.3 billion recorded prior to August's similar chain swap transaction, indicating that the number of Tethers issued on the Tron blockchain has been increasing even following last month's $1 billion Tron-to-Ethereum transfer.
The swap is expected to reduce that total to $3.7 billion, while increasing the Ethereum-based Tether supply to more than $9.8 billion.
As in last month's billion dollar chain swap, Tether has declined to disclose which customer has requested the sizable transfer off of Tron, but at the time clues on the blockchain pointed to Binance as that client. Tether's partner this time is less certain—more than $40 million has been transferred from the Tether Treasury to Binance in the last 24 hours, but so far no indication of Tether tokens being returned to the Treasury to complete the swap.
26,000,000 #USDT (26,205,702 USD) transferred from Tether Treasury to #Binance

— Whale Alert (@whale_alert) September 14, 2020
Justin Sun, the eccentric founder of Tron, has recently targeted the Chinese market to uncover new DeFi investors, launching protocols such JustSwap and SalmonSwap in an effort to kickstart DeFi activity on the Ethereum competitor. At least one Tron-friendly Tether customer, however, clearly hasn't seen enough progress to keep from moving substantial liquidity onto Ethereum.
It's possible that DeFi will eventually move beyond the Ethereum blockchain in a meaningful way. But tomorrow's Tether chain swap is proof that, for now, DeFi on Ethereum still reigns supreme.
Source: decrypt